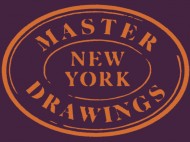 Master Drawings New York will return to the Upper East Side this year from January 26-February 2, 2013, with a preview reception on Friday, January 25 from 4-8 pm.
This year the gallery is exhibiting a 31 page original sketchbook by Diego Rivera, drawn from Winter 1920 to Spring 1921, when the artist traveled through Italy studying paintings and murals of the Renaissance. Rivera had requested this one last trip from his patrons in the Mexican government before accepting their request to return to Mexico to direct the Mexican mural movement.
This sketchbook was preserved by Rivera's first wife, Angelina Beloff, and given to Rivera's friend, the artist Jean Charlot. It is being presented in its entirety for the first time in 92 years. It provides a valuable art historical connection between the Italian Renaissance and the birth of Mexican and American muralism. The sketchbook contains studies of murals in Venice by Tintoretto, mosaics in Ravenna, a precise technical drawing of a scaffold, sketches of the Italian landscape and studies of street people in Rome, both high and low.
The exhibition at the gallery will continue through February 22. To learn more about Master Drawings visit the official website.