Note: This is a study for the allegorical figure of "Song" from the mural in the Auditorium at the National Preparatory School in Mexico City. Painted in 1922-3, this was Rivera's first mural commission from José Vasconcelos, the Minister of Education whose progressive ideas about education and culture seeded the Mexican Mural Movement.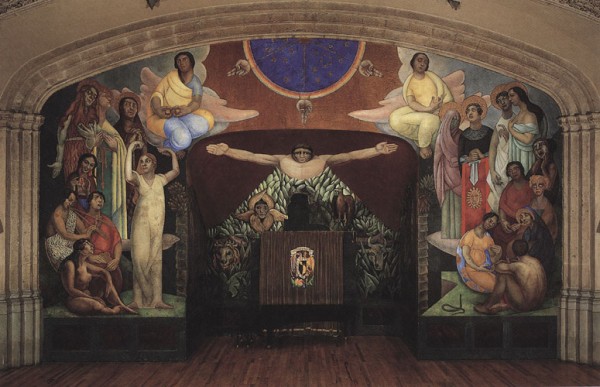 This mural is interesting from various points of view. Professionally, it marks Rivera's first public work in Mexico. Stylistically, it represents Rivera's initial shift from a purely European aesthetic towards a more Mexican one. The theme of the mural is Creation, and Rivera, still with fresh Italianate references in mind from his trip to Italy in 1921, created a very European composition with allegorical figures representing the Emanations of the Spirit of Woman (Faith, Hope, Charity, Comedy, Song, Music, and Dance), as well as those of Man (Science, Continence, Strength, Justice, Prudence, Tragedy, Tradition, Erotic Poetry, Knowledge, and Fable) laid out in an arc following the shape of the wall. It is flat and has no background. Although the figures are extremely Byzantine in design, as is Rivera's use of gold leaf throughout the composition, the physical attributes of the figures are unmistakably Mexican, as is the jungle painted in the niche below.
On a personal level, the mural represents Rivera's first encounter with Guadalupe Marín, who modeled for the figure of Song, and who would become his second wife. According to Rivera, this meeting was arranged by the singer Concha Michel in an effort to thwart any possibility of an affair between herself and the painter. Rivera recalled the introduction by Michel:
"I realize that the only thing that can keep us apart is another woman who is handsomer, freer, and braver than I am. I have brought her straight here to you………. My friend Lupe Marín from Guadalajara."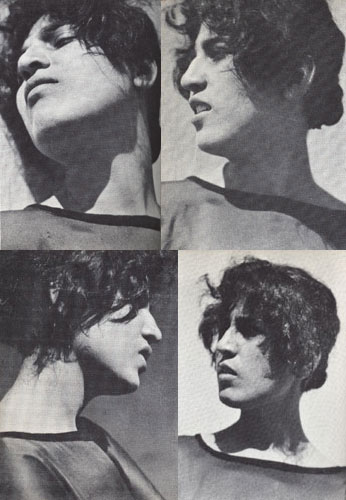 Rivera continues:
"a strange and marvelous-looking creature, nearly six feet tall, appeared. She was black haired, yet her hair looked more like that of a chestnut mare than a woman's. Her green eyes were so transparent she seemed to be blind. Her face was an Indian's, the mouth with its full, powerful lips open, the corners drooping like those of a tiger. The teeth showed sparkling and regular: animal teeth set in coral such as one sees in old idols. Held at her breast, her extraordinary hands the beauty of tree roots or eagle talons…"

"Is this the great Diego Rivera?" Lupe asks "To me he looks horrible!"
Lupe became famous in Mexico for her wild beauty and her extraordinary and tempestuous character. Her animalistic features, as described by Rivera, were highlighted by Edward Weston in a series of famous photographs from 1924. Lupe and Rivera produced two daughters, Ruth and Lupita, but their marriage was a stormy one. Lupe's raging fits of jealousy (she once smashed some of his pre-Columbian idols and served him a soup made from the shards) and Diego's constant infidelities, caused their marriage to end in 1927. Still, they remained friends over the years. Though Lupe was at first resentful of Frida Kahlo, Rivera's third wife, it was Lupe who taught Frida to cook all of Diego's favorite dishes and to bring them to him to the scaffold at midday in a basket decorated with flowers, in the tradition of Mexican campesinas going to visit their husbands in the fields. (Hayden Herrera, p. 104).
This study was probably made on the day described by Rivera when he met Lupe for the first time. He concludes the story:
"Shall I sit for you? Lupe said. I began her first portrait. Then a second and a third. Then I made four or five studies for the auditorium, in addition to about twenty hands. After that day, we were together so much that it became a trial for both of us to be apart"