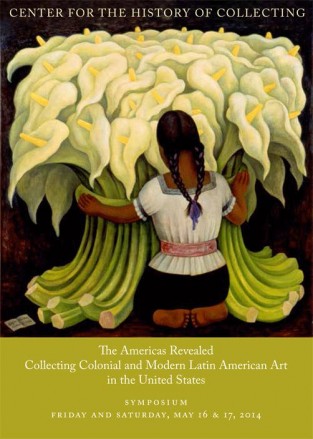 This two-day symposium at the Frick on public and private collectors of Spanish Colonial and Latin American art will feature presentations by experts from museums and universities in Los Angeles, Houston, Phoenix, New York, and Philadelphia. The keynote address will be presented by Edward J. Sullivan, the Helen Gould Sheppard Professor of the History of Art at the Institute of Fine Arts and the Department of Art History, New York University, and a leading specialist in the art of Latin America. Professor Sullivan will also interview Roberta and Richard Huber (Friday) and Patricia Phelps Cisneros (Saturday), collectors who actively acquire the art of the Americas.
Tickets for both days of the symposium are $50 ($35 for members); single-day tickets are $30 ($25 for members).
Mary-Anne Martin will give a talk titled How the Art Market Affects Collecting Decisions by Individuals and Institutions on Saturday May 17 at 11:35.